The wolf's comeback from extinction in the southern Alps has turned into a huge political hot potato. We join a tour to track down the contentious creatures
Simon Birch
I'd make a rubbish wolf. Standing on a snowy ridge with a commanding view of the spectacular southern French Alps, I'm doing my best howl in an effort to make contact with one of Europe's most maligned and misunderstood animals: the wolf.
To be honest, though, the sound I make is more pitiful whimper than blood-curdling cry and I leave it to Bernard, our guide and star wolf impersonator, to try and talk to the animals.
There are a few people in France who would sooner kill these animals than talk to them, however. Persecuted to extinction in the Thirties, the wolf quietly slipped past guards at the border with neighbouring Italy in 1994 and proceeded to storm back into French headlines. Their growing numbers – now an estimated 300, triple the population in 2005 – has angered local farmers to such extremes that, last year, a group of sheep farmers kidnapped the president of a national park to protest loss of precious livestock at the wolves' jaws. Not long after, the French government deployed a crack team of wolf hunters to the Alps to shoot wolves seen as a threat.
Bernard, however, is a wolf hunter who's more friend than foe. Throwing back his head, he takes a deep breath and belts out an astonishingly convincing wolf-like howl which echoes all around us.
My heart pounding with excitement, I listen intently in the hope we'll get an answering howl. But apart from the murmuring of the wind through the pine trees, we hear nothing.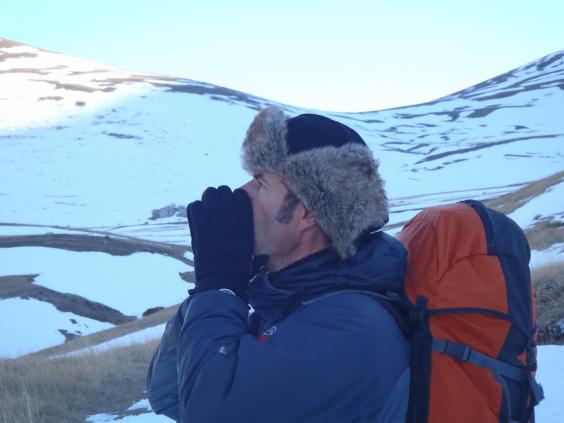 Howling at wolves is one of the more bonkers, but frankly brilliant things you get to do on this wolf tracking mini-break, intended to foster a greater appreciation for the animals. Thanks to its sparse population, abundant prey and impossibly rugged terrain, it's here in the huge wilderness of the southern French Alps that there's the highest density of wolves anywhere in France.
Despite this, however, Bernard warns me not to expect to be tripping over wolves at every step.
"The territory of each wolf pack or solitary animal is enormous," explains Bernard, who's been walking and hunting in these mountains all his life.
"Although you could be lucky and find signs of wolves straight away, you may not find anything and there's no guarantee you'll see or even hear a wolf." Consider my expectations thoroughly managed.
"The best time to track wolves is in the winter when there's snow on the ground as it's easier to follow signs and tracks over long distances," she says.
In essence I'm on one big detective hunt for one very big and very elusive animal whose cunning and ability to outwit is notorious.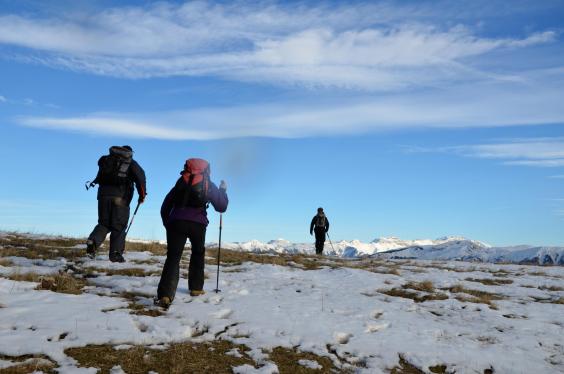 The base for our wolf-tracking work is a tiny, stone-built mountain refuge sited Hansel-and-Gretel-style in the midst of a vast forest, less than one hour's drive from the buzzing city of Gap.
Even though we're so close to civilisation, there's a real sense of being out in the wilds, as we're totally alone in this ruggedly beautiful and under-visited part of the Alps.
And as if to underline the wildness of the area, just as we arrive at the refuge a magnificent pair of golden eagles swoop right overhead to stage a dramatic fly-past.
After a picnic lunch that we eat outside in warm winter sunshine, Bernard wastes no time in getting to work looking for wolf-like clues. And bingo, we strike lucky as just minutes from the refuge we find our first breakthrough.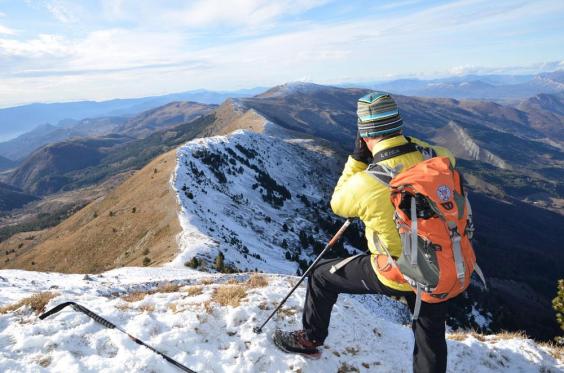 "This is fresh wolf poo," beams Bernard, pointing with a stick to an impressively large pile of poo lying in the snow.
"See the black hairs sticking out?" he asks. "They're from a wild boar which forms a key part of the wolf diet at this time of year."
We soon find more poo, this time from roe deer and chamois, both of which figure prominently on the wolf menu.
More exciting still, Bernard then quickly finds our first fresh wolf tracks clearly visible in the snow.
"How can you tell they're wolf and not dog tracks?" I ask.
"Wolf tracks occur in a neat straight line and are much bigger," replies Bernard, "while dog tracks are always made in pairs."
Close by we find another set of wolf tracks and then another, leading Bernard to conclude that – incredibly – a pack of wolves has recently been here. In fact they've been so close to the refuge that they could have popped in for a brew. Awesome.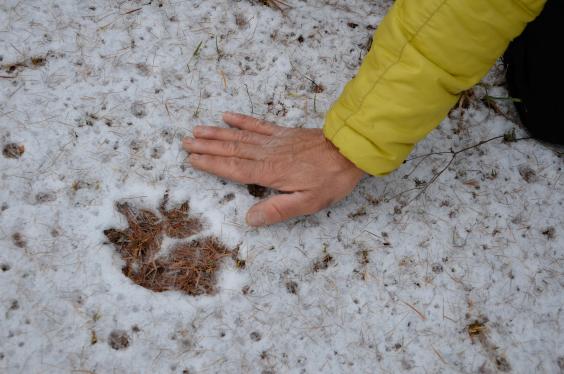 We quickly climb to a vantage point where we scan the mountainsides for signs of the wolves. It's here that Bernard howls to the wind to try and coax the wolves into revealing themselves, but our luck has run out and we draw a blank.
Next day Bernard drives us to an even more remote valley where he reckons the wolf pack is hiding out.
No sooner have we started walking up the icy track then Bernard picks up a trail.
"Here's where the wolves have been rolling about in the snow, probably within the last 24 hours," he says, crouching down to where the snow's clearly been disturbed and from where, amazingly, he picks out a few pale, grey downy wolf hairs.
The wolf hunt is now very much on.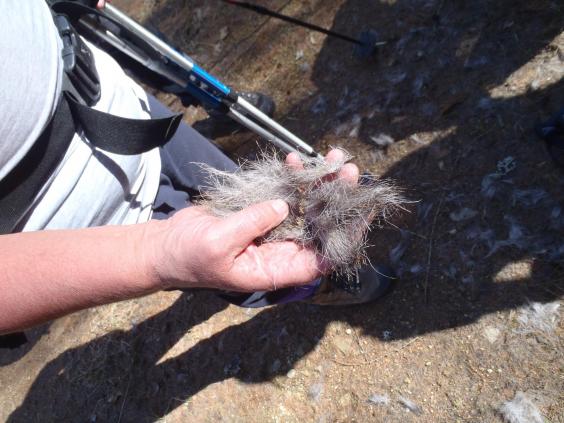 We spend the rest of the day climbing through the forests and hills following their tracks, with a growing sense of excitement that finally we'll catch a glimpse.
But despite Bernard's best efforts, the wily wolves give us the slip and melt back into the forest unseen.
"I'm very excited that the wolf is back," admits Bernard as we walk back to the van. "It's an almost mythical animal and is also very important as here it sits at the top of the food chain."
Of course, as we've pointed out, not everybody's excited the wolf has returned and the issue continues to be one of the most controversial in French politics.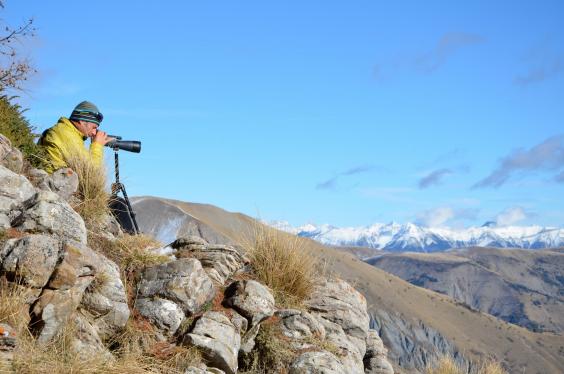 "There are just too many wolves now," says local farmer Pierrot, who we meet on the way back to Gap and who lost 25 of his 250 sheep to the wolves last year.
"I don't want to see the wolf wiped out in France," adds Pierrot, "I just want them controlled and their numbers kept in check."
Back at the refuge, the wood-burning stove stoked, we're preparing to bed down for the night, but I can't resist nipping outside for one more howl. But, even though I've been practising, Mr Wolf is still refusing to return my calls.
No matter, for as I snuggle down in my sleeping bag it's good enough to know the wolves are finally back home and, for the time being at least, they're roaming these mountains wild and free.
Travel essentials
Getting there
Fares from London St Pancras to Gap start at £122 standard class return with SNCF (0844 848 5848; voyages-sncf.com).
Staying there
Three days of wolf tracking with Undiscovered Alps (undiscoveredalps.com), including two nights full board in a mountain refuge, costs from £420 per person depending on departure dates.
More information